Today is October 3. And while that might just seem like a mundane date to the average person, it's a celebratory day for fans of the high school comedy "Mean Girls." It's the day hottie Aaron Samuels (Jonathan Bennett) asks new student Cady Heron (Lindsay Lohan) what day it is. As Cady says in voiceover, "On October third, he asked me what day it was." And then we watch that moment play out. It's such a simple moment in the movie, but "Mean Girls" fans have latched on to it, and they honor it every fall. But they'll have something more to celebrate in 2024. 
Next year will mark the 20th anniversary of "Mean Girls." That's right, it's been 20 years since the girls went wild and North Shore High School was upended by the infamous Burn Book created by The Plastics. Though the movie won't actually celebrate its proper anniversary until the end of April 2024, Paramount Pictures is kicking off the year with the release of the big screen adaptation of the "Mean Girls" stage musical on January 12, 2024.
The "Mean Girls" musical movie is directed by Arturo Perez Jr. and Samantha Jayne, with book by Tina Fey (who also wrote the script), lyrics by Nell Benjamin, and music by Jeff Richmond. The cast includes Angourie Rice as Cady, Auli'i Cravalho as Janice, Reneé Rapp as Regina, Jaquel Spivey as Damian, Avantika as Karen, Bebe Wood as Gretchen, Christopher Briney as Aaron, Jenna Fischer as Cady's mother, Busy Philipps as Regina's mother, and Tina Fey and Tim Meadows reprising their respective roles as Ms. Norbury and Principal Duvall.
But there's more good news, especially if you like coffee and all things pink.
On Wednesdays, we have pink coffee creamer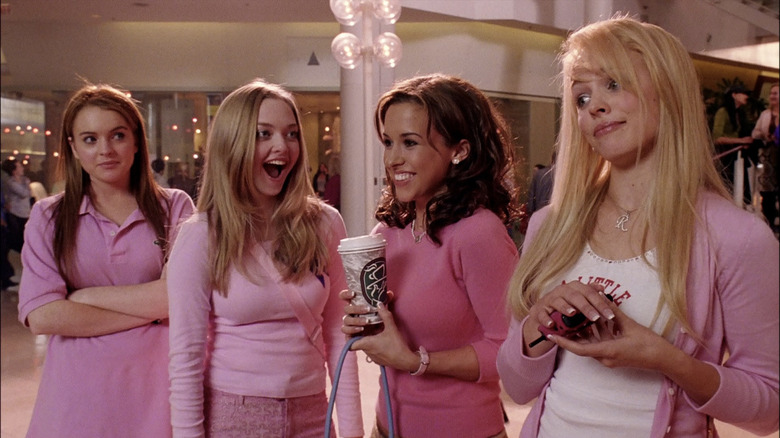 Paramount Pictures
Coffee mate, the company behind various flavors of coffee creamer for your morning caffeine fix, has announced a limited edition "Mean Girls" flavor. It's called Pink Frosting, and you bet your Kälteen Bars that it's pink. Here's the post on Instagram from Coffee mate:
The official copy for the new coffee creamer says: 
"You don't have to ask us what day it is…it's October 3rd! And the perfect day to introduce our NEW limited-edition Coffee mate 'Mean Girls' Pink Frosting Flavored Creamer! On Wednesdays (and all days that end in "y"), we drink pink thanks to this first-ever pink-colored creamer that's Plastics-approved! 💗☕

Our SO FETCH creamer has notes of sweet, delicious pink frosting flavor in every sip. 🎂 Coffee mate 'Mean Girls' creamer is an ode to the iconic movie's upcoming milestone 20th anniversary celebration and will be available at grocery stores nationwide beginning in January 2024."
We're betting this is just the start of the "Mean Girls" anniversary celebrations that will be happening throughout 2024. Maybe The Weather Channel will bring in Amanda Seyfried to determine whether it's still raining. Perhaps Rachel McAdams will start selling foot cream for your face. Could we possibly get the official "Mean Girls" Toaster Strudel from Pillsbury back on shelves? We'll keep our fingers crossed. Stay tuned!